CT-3000
Take Your Curbing Project to the Next Level with the CT-3000 Curb Extruder
The CT-3000 Story
The origins of the CT-3000 match those of Curb-Tec, because this was our first flagship product, and it has now become the new international industry standard. Our team was originally hired to design and build a curb machine that exceeded those found in the marketplace. Our curbing machine was so successful that we decided to form a corporation to manufacture and sell it to others around the globe. This machine came to be known as the CT-3000.
Curb-Tec started receiving orders from contractors and municipalities around the world once word about our product spread, and we were able to modify this curbing machine to extrude curb with rebar and also under guardrail. We're proud that our equipment has revolutionized the small commercial curbing industry, and we are grateful for the input our satisfied customers have shared with each other.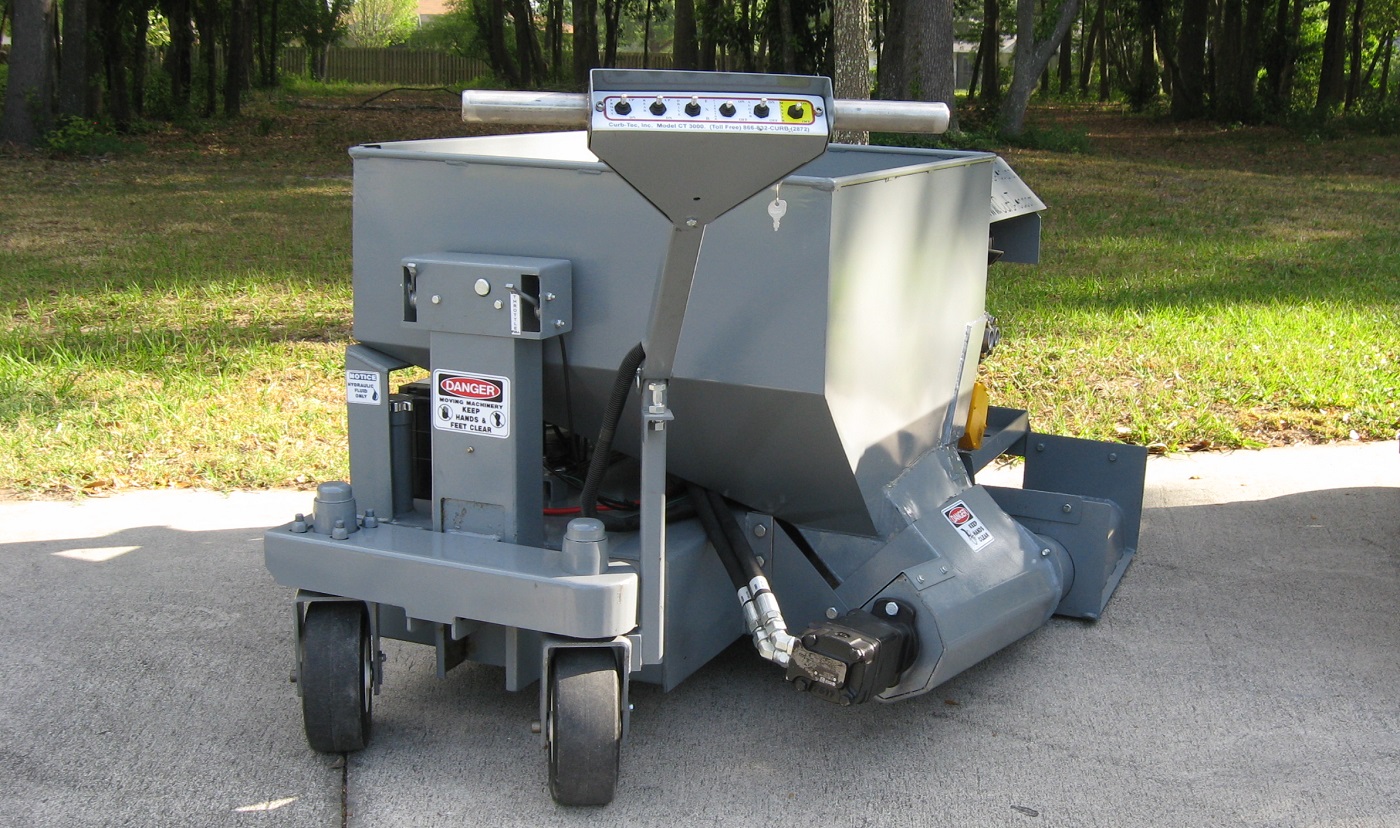 The CT-3000 Curb Extruder
CT-3000 Key Features
FAST – The CT-3000 is the fastest curb extruder on the market, clocked at 52' (15m) per minute.
VERSATILE – Our Standard CT 3000 handles most curb designs. Options extend capabilities well beyond other's product offerings.
ROBUST – Powerful, 23.5 HP KOHLER engine with 3 year warranty.
CAPABLE – Extra large hopper .33 yd with removable door.
DURABLE – Heavy Duty smart design, Expected machine life, 13 to 15 years.
LONG LASTING – Long Run Time – 5 Gallon Fuel Tank.
EFFICIENT – Reverse the main auger on the Fly to immediately free those pesky jams. Fast set up, Smaller crew.
EASE OF RELOCATION – Easy to transport – this unit will fit in your van or pickup truck
EASE OF USE – Forward and Reverse Drive, Hydraulic Elevation Jacks. All controls at the operators finger tips.
EASE OF CLEANING – Lift-off hopper provides easy access to the auger
EASY TO LEARN – User Friendly, smart operation control arrangement. Experienced Curb-Tec staff support.
PRODUCT SUPPORT – Curb-Tec maintains a large inventory to support all your machine needs. In most cases parts ship same day.
CT-3000 Product Specs
Engine: 23.5 Horse Power, KOHLER, Gasoline, Air-cooled
Weight: 975 lbs (442 kg)
Hopper Cap.: .33 cu yd (.25 cu m)
Dimensions: 66″ (142 cm) Long , 34″ (87 cm) Tall, 32″ (81 cm) Wide
Auger: 24″ x 6″, AR 400 steel, hard faced, Symmetrical so each end can be used.
Auger Drive: Hydraulic Motor
Drive Speed: 3 MPH (4.8 kph) forward and reverse. Reverse speed is adjustable.
Tires: 9.5″ x 3.5″ (solid rubber)
Wheel Drive: Hydraulic Motor
Elevation Jacks: (2) Hydraulic
Maximum Extrusion Cross Section, Standard machine, 14″ High x 16″ wide. (35.5 cm x 40.6cm)
Vibrated Hopper; (Optional)
CT-3000 Options
26 HP (EFI for high elevation work) and 27 HP Kohler Engines
23 HP Honda Engine
Forward Drive Speed Control
Under Guard Rail Kits
Cast Alloy Auger, (6" only)
Custom & Extra Wide Molds
Over Rebar Molds
Wheel Brake
Vibrated Hopper
Dual Auger Arrangements, All Sizes
4", 5", 6", Dia. Augers & Compactor Tubes
Add Material Feeder System