CT-900
Out-performs other machines in its price range.
The CT-900 Story
First designed and built by Curb-Tec in 2001, CT-900 was first introduced to outperform existing curbing machines in the marketplace. CT-900 is special due to its large hopper, ease of operation, and high production rate. Once word got out about the CT-900, our customers started to ask for even more features and machine advancements. In 2006, we redesigned this curb machine to curb over rebar, curb under guardrails, pour from the left side of the machine, and extrude really small curb. We added all of these features without sacrificing size, speed, power, or simplicity and instead made the CT-900 more versatile and even easier to use than ever before.
In short, the CT-900 jobsite results are only exceeded by the Curb-Tec CT-3000. With this curbing machine at the forefront of our efforts, Curb-Tec has worked with countless clients across the America's, Europe and beyond to introduce the extruded curb concept to many other road systems and communities across the globe. Our innovative equipment makes labor faster and easier while producing higher precision curbing results.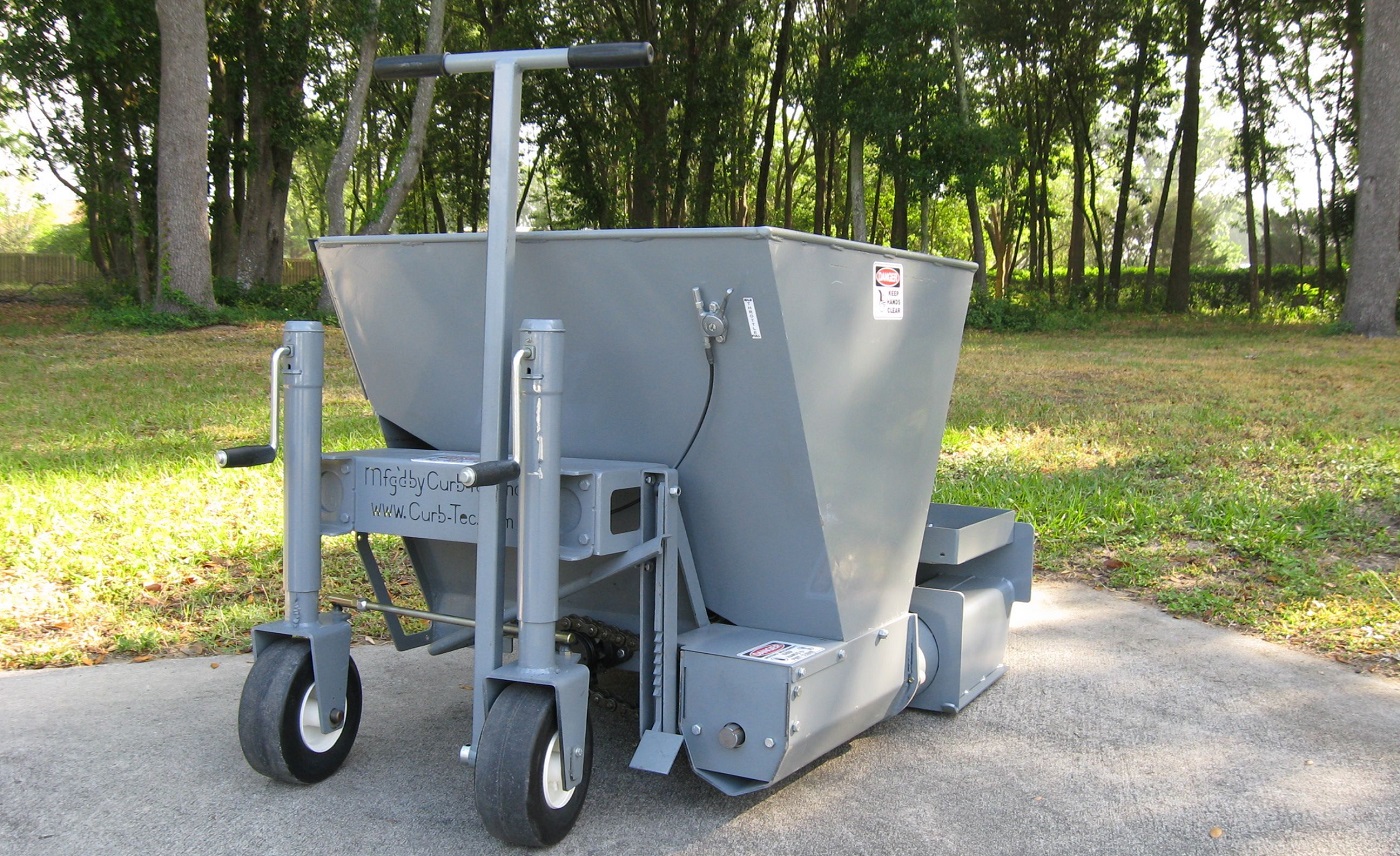 CT-900 Key Features
FAST – The Std CT 900 is 4Ft/Min faster than our competitors curb machines , Clocked at 22ft/Min.
VERSATILE – Adjustable rear jacks to accommodate extra wide curb molds
ROBUST – Powerful, 14 HP Air-cooled engine with 3 year warranty
CAPABLE – Extra large hopper ¼ Cubic Yard 8.77 cubic feet. (4) Elevation Jacks
DURABLE – Extra heavy duty auger engage and drive components fully enclosed, protected mechanical parts
LONG LASTING – Industrial grade auger drive components
EASE OF RELOCATION – Lightweight and easy to maneuver around the jobsite
EASE OF USE – Equipped with inboard steering handle
EASE OF CLEANING – Removable Hopper, easy access to all service points.
COST EFFICIENT – Competitively priced, reversible Auger AND Compactor tube.
CT-900 Product Specs
Engine: 14 HP KOHLER, or 12 HP HONDA, Air-cooled, Gasoline.
Weight: (Empty) 645 lbs. (292 kg)
Dimensions: 66″ (168 cm) Long, 32″, (82 cm) Tall, 32″ (82 cm) Wide
Hopper capacity: 8.7 Cu. Ft. (.25 Cu. Mtrs)
Auger: Heavy Duty (AR400) Steel, Hard Faced
Tires: 9.5″x3.5″ (Solid Rubber)
Max. Extrusion Cross Section: 14″H x 16″W, (35.6 cm x 40.6 cm)
Speed: 22 FT. / Min, (6.7 Meters / Min.)
CT-900 Options
Electric Start (Kohler Only)
Custom & Extra Wide Molds Available
4 Inch Auger Housing Assembly
Under-Guardrail Kits, 4″, 5″ & 6″ Dia. Augers
5″ Auger and Compactor Tube Setup, for 6″ (Std) Auger Hsg
Cast Alloy Auger, (6″ only)
Left Hand Machine Set up, Field Reversible
Hollow Auger Shaft
Over-Rebar Molds
Honda Engine (No Electric Start)
Wheel Brake